WARNING: MILD NERDINESS INCOMING
Anyone who knows me, knows I am a huge Game of Thrones/A Song of Ice and Fire fan. I read all the books in a maddened, month-long frenzy this summer. I'd definitely recommend both series (TV and Literature) to anyone who is a fan of fantasy, political-intrigue, medieval history, complex characters that reside in a world dominated by moral greys, or just exquisitely crafted fictitious worlds. With that said, if you aren't familiar with the series at all, some of this might be lost on you, and if you are only familiar with the TV Series, well, I'm hoping to not really spoil anything.
With that said, I am writing about my family today.
In the series, one of the central families is the Stark family. One of the seven major houses of nobility, and arguable the protagonist family of the series. It really is a tragedy of sorts, at the beginning of things, you see a mostly united family, all together in their realm of the north. They are simply– together.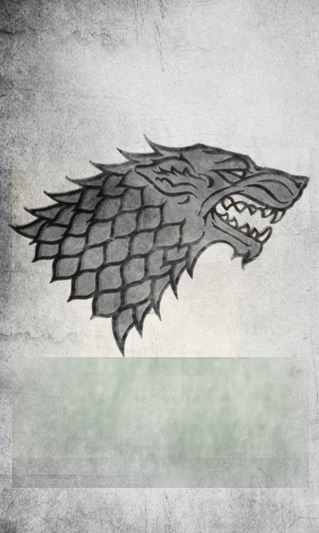 Then things kick off, and the once whole Stark family begins to part ways. We see them all together in the beginning, and ever since then, not only do many of them not reunite, but there is a strong theme of constantly branching off further and further apart.
A family apart does not cease to be a family, but they can't compare to a family together.
Lately, my family feels more and more like the Starks.
Also occurring this summer, my brother(-in-law) and sister were given an opportunity to move away, to greater pursue dreams and goals. Shortly after, one member of House Curtis-Lee set off to the exotic Hawaiian Islands, followed soon there after by the rest of the flock of House Lee. And just like that, our house was already split off.
Compared to most of the south, my parents are unique in the sense that, as long as I've been alive, we've been branched off from our families. My only real contact with my mom's family in my life has been through Facebook (something I would like to change). My dad had his brother, my uncle, and his family, and beyond that, the two Curtis boys were basically the nucleus of that family after my Nonnie passed away when I was just a small child. I grew up with the idea in my head that this was how most families worked. I moved to Tennessee and thought all these kids who had grandmothers and grandfathers, aunts, uncles in their daily lives, and cousins who were their best friends, were abnormal. Granted, I don't think there is a normal or weird in this case, but the standard way families have always worked is that families are the people you are together with. They are your life long pack, and packs usually stay close, stay together.
As I grew up, our pack grew a little bit. My older sister got married. My older sister had a daughter. Then she had a son. She had a husband, and he had parents and a sister. They moved from Florida to here. Just like that, we had a tight-knit, local pack. I look back on it, and now my perception is that this idea of family members spreading out is a vigorously foreign concept to me.
My family is an extension of myself. I am something like 90% them and 10% bits and pieces that are solely me (or derived outside of them).
The Starks separation was not one that was initially proposed with tribulation, but quickly spiraled into a separation that greater reflected harder and harder times the further apart they get.
Mom and Dad are in California now. I couldn't tell you what they are doing out there. Could they? Probably not. I don't think anyone really knows, not tangibly, not in concrete words and ideas. My close friend Robert is in Japan, and when people ask him why, he just says he doesn't know, he just feels like that's where he is supposed to be right now.
First off, I don't know many people braver than that, or whose sails of faith can let them be caught by the streams of conviction to just replant their lives into a totally foreign land for over a year at a time, and second, I don't know if I know anyone who is that honest with themselves and the world to ever openly admit such a thing– yet, so many times, that really is the answer for how we get to where we are.
I don't really know why they are there. They are trying to get to Hawaii. They want to be with their grandkids, but what business did they have compressing as much of their lives, throwing it into a few bags and driving across the country. What business in their current situation in life did they have doing that? It is a harsh world out there, but we are good at surviving in it. It doesn't get any easier the older you get. They are both getting older and older, and I don't know where they find the energy and faith to do such a thing.
The same could even be said about Cece and Michael. What business do they have uprooting an entire family, a young family, that has much time to fill with stages of rapid learning, growth, and changes as it is. I could tell you a couple more tangible reasons for each of them, but if you look at it like that, it is still an incomplete equation.
And myself, am no different. Why am I still in Tennessee? I am a foreigner in my own land. I am entirely on my own. I'm like an Arya or a Sansa or a Jon. I guess more a Jon, because in some cases, I could still be with my family, but I choose not to. When I tell people about how my family recently spread out, they hear where they went to and always ask what on Earth are you still here for?!
It's a choice I made. I can give you small tangible bits and pieces, but like a snack, it only makes you forget that hunger, that curiosity for a while. Yeah, I've already got a life here. I have a job here. So did everyone else, but they left. The fact is, for all of us, just like Robert, that's where we believe we need to be right now. Everyone of those things is faith applied. My parents are trying to journey to Hawaii. Trying to reunite most of the pack, and right now, their leg of the path has them in Southern California indefinitely. Cece, Michael, and the Kids are trying to re-nest in the most drastic change, because they believed in the opportunity enough to try, and keep trying until it works, or they end up where the family needs to be, and me, I stay here, because I want to be here.
San Diego will always be my favorite place in the world, it's where I am from, but it also is not my home. Nashville is my home. It is where I need to be right now, and the unfortunate part of that is it keeps me separated from my pack, but I also think that is why I need to be here.
A common theme in my life in recent years has been this idea of being a lonewolf. I do a lot of things by myself. I am even convinced that certain things that most people do socially, or not social acts (for instance, going to the movies. It is nice to go with company, but it is not a friggin social act, at all– so I usually go alone). I have a bunch of small branches of friends, and that means I usually go fraternize with other packs as this sort of lone wolf (and might I add, for those unfamiliar, the Stark's family sigil is a Direwolf). That's just me.
It makes me really sad, though. Just as I can read a piece of one man's imagination and be sad to think about all these key events of each family member's life that won't be shared with the rest of the Stark family, I am sad to think of the potential key evens that are going to be experienced differently because we are apart from each other.
Whenever I've made new friends or dated someone in my life, I've always been most proud to first bring them to the house, to meet mom and dad; Miss Eva and Psycho Alan. And when they meet Cece and Michael, things are just complete. The time will come where I am dating the woman I will end up marrying, and I won't be able to do that. It takes a huge element out of things. I take my niece and nephew and proudly display them to the world, and at the same time, to myself, can't wait until I have my own kids running around that are as impressive as those two.
And when House Curtis-Lee grows again, how will it be different this time? We will grow as a family, but we won't grow as a family. Not like we used to. Not for the foreseeable future, at least. Life is busy. How well will they get to know this prospective woman? Will we even all be able to meet in the same place at once, and be a family together, before we add to the family? And what of her family and my family?
I don't usually think in super futures like this, or about marriage with this level of specificity, but it can't be avoided when I miss my family. You can't help but wonder how that plays into something like that. To someone who is just now meeting me, my family is hypothetical, and abstraction, a cloud over a distant land, but their rains don't reach us.
They'll just have to see them shining through me. And they will.
It won't be the same, and that's sad. We are Like the Starks right now. We are all well, and we are all there for each other more intently then we were when we had the convenience of physical proximity, but we are also like the Starks because we face a whole set of new struggles. I could argue that they are greater struggles than our family has even met since this generation of our family has formed, but you it is like that whole comparison of different fruits, I guess you can't do it.
For all I know, the last time I saw any of them could be the last time I see any of them, and that's what makes such a period in my life such a stark period of uncertainty and fear, as well as longing for those you already miss, but regardless of this, just as I read a book series, I take each day like the turn of a page, and one of these days, in one way, shape, or form, that page will feature our reuniting. And we will still be family.
(and for the record, yes, I think what Starks there are to reunite will certainly reunite. GRRM basically said so when he likened the Starks to the heroes)
Now if you excuse me, I need to turn the page to today.